Current Activity Updates
For Previous Current Events items, visit the Archives
March 3, 2015
Action:reAction 2015 student social-forum
The Human Rights Committee
of OSSTF District 12
invite you to the upcoming:

Action:reAction
2015 student social-forum.

When:
April 30th, 2015
8:30 am to 3:30 pm
Where:
Vaughan Road Academy
529 Vaughan Rd
Toronto, ON
(near St. Clair West subway station)

---
March 3, 2015
Defend the Bolivarian Revolution in Venezuela
Stop Imperialist Aggression!
Friday March 6 2015
New Location (due to Cupe 3901 Unit 1 strike)
SteelWorker's Hall
25 Cecil St.
Toronto, ON
Organized by:
Hands Off Venezuela
Hugo Chavez People's Defense Front
Luis Riel Volivarian Circle
Latin American and Caribbean Solidarity Network
Sponsored by:
Socialist Action, Community Party of Canada, Common Frontiers, Fight Back, Casa Maiz, Arts and Resistance, Casa Slavador Allende, Young Communist League, Toronto Forum on Cuba.


---
March 1, 2015
International Solidarity With The Bolivarian Revolution Week
We are popular movements, social and cultural centres, community media, solidarity circles, Union groupings, cooperation networks; accompanied by intellectuals, artists and by people in general who are supportive of the popular cause and identified with revolutionary processes, we are fighting for independence, sovereignty and social justice.
Faced with the attacks on Venezuela by capitalism's power nexus, we are called on and we call on others to organize a simultaneous week of solidarity with Venezuela. Through exchanging and articulating cultural activities, this initiative aims to bring together expressions of world solidarity with the Bolivarian Revolution.
These activities, which will take place between 1 and 8 March, plan to create spaces where various peoples can showcase their own cultural expressions: cine-fora, places for debate, rallies, artistic activities, etc.

Organising the ideological and cultural battle
The attempt to overthrow the Bolivarian Revolution is an extremely important goal for the international right. It includes systematic propaganda by the privately owned international media linked to other aspects of the capitalist offensive. The ideological arena, the battle of ideas, is a key area for the Revolution, both nationally and internationally.
Expressions of solidarity from millions of people, and in some case, from their governments, is the main international support for the Venezuela, attacked on all sides by imperialism, especially by the most conservative sectors in the US and their accomplices.
This is why we must coordinate this force so that it can have a greater impact. Every advance made in unity and brotherhood among peoples is an achievement that works in favour of the profound social changes that we need all over the planet. Defending the Bolivarian Revolution means contributing to those advances, therefore, we call on all to coordinate our efforts, adding our voice in all five continents.
For more information or to join the campaign send an e-mail to LosPueblosConVenezuela@gmail.com
-Manifiesto (castellano) pdf
-Manifiesto (frances) pdf
Common Frontiers is one of hundreds of organizations around the world (and possibly the only Canadian organization, so far) to sign on to this week of solidarity. To see the complete list, click on the link below:
-List of signatories (PDF)


---
February 27, 2015
The 2015 Michael Baptista Lecture
Education and Mobilization in Contested Mexico Situating Ayotzinapa
Presented by: The Centre for Research on Latin America and the Caribbean (CERLAC)
On September 26, 2014, students from the Ayotzinapa Teachers' College were attacked by police and gunmen in the town of Iguala. Three were killed, dozens injured and 43 student-teachers were taken away, never to be seen again. This atrocity is part of a landscape of violence and impunity carried out through alliances among elements of the Mexican state and organized crime. In response, a national movement of resistance has emerged. This panel of experts on contemporary Mexico explores the context surrounding these events including the rise of drug violence, long standing popular movements among teachers and students, meaningful democracy, and the links between powerful interests in licit and illicit industries.
Place: Founders Assembly Hall (FC 152) - York University
Date and Time: March 18th, 2015 from 5:00 - 8:00
Facebook page
Panel:
Luis Hernandez (Journalist, La Jornada)
Maria Luz Arriaga (Economist, Universidad Nacional Autonoma de Mexico)
Jo Tuckman (Journalist, The Guardian)
Hepzibah Muñoz (Political Scientist, University of New Brunswick
Reception to follow - Food and refreshments will be served.

Sponsored by CERLAC, York University, Common Frontiers, and Amnesty International
---
February 13, 2015
Condemning coup attempt in Venezuela by anti-government forces
Common Frontiers condemns the attempted coup plot orchestrated by anti-government forces to coincide with the commemoration of the one-year anniversary of the violent opposition-led demonstrations that saw more than 43 people killed.
As anti-government demonstrations once again clash with police on the streets, hurling Molotov cocktails injuring five security officials and three demonstrators, behind the scenes the architects of the failed coup were meticulously planning. Details released by government sources indicate that a small group of civilians and air force officials were recruited to carry out the plan, which included bombing the Presidential Palace, the offices of teleSUR, assassinating President Maduro, and installing a "transitional government". The leader of the National Assembly, Diosdado Cabello revealed the government has confiscated grenades, military and Sebin (intelligence) uniforms, and a video with masked military officials speaking out against the government and detailing the plan.
The Bolivarian project has undertaken 18 internationally recognized democratic elections over the past fifteen years winning all but one. In 2013, pro-government candidates obtained 54% of the national vote in nation-wide municipal elections winning in over three-fourths of the municipalities. These victories are testament to the overwhelming support for the Bolivarian project in Venezuela.  The failure of the opposition in the electoral arena has motivated them to undertake extreme measures to challenge the government. Under a campaign called "the exit" they have publicly called for regime change and aligned with the business elites engaging in economic destabilization through hording of products as part of a psychological war to create fear and chaos.  
Common Frontiers stands in Solidarity with the people of Venezuela and rejects attempts at undermining Venezuela's sovereignty. We oppose any efforts both locally or internationally that seek to rupture the Constitutional order in Venezuela.
We call on the Canadian government and Parliament to:
Follow the lead of the The Non-Aligned Movement, Community of Latin American and Caribbean States (CELAC) and the Union of South American Nations (UNASUR) who have rejected any attempt to destabilize Venezuela.
Condemn the anti-government violence actions and recent failed coup d'état.
Support peace and reconciliation in Venezuela by refraining from supporting the opposition and its members like Leopoldo Lopez whose charges include public incitement to violence and criminal association as it only further emboldens their destabilization efforts.

Common Frontiers

---
January 31, 2015
Canadian MPs support for prisoners' rights misses the mark on at least one "political prisoner"
We were delighted to read that your party participated in an event advocating the promotion and protection of human rights on the eve of the first anniversary of Nelson Mandela's death. We were however, dismayed to see included in the list of political prisoners, Mr. Leopoldo López referred to as a "distinguished" Venezuelan by Conservative MP Scott Reid. López is indeed distinguished but not for being a democrat or respectful of his country's constitution but rather for his long history of violence and corruption while seeking to destabilize and overthrow the democratically elected governments of the Bolivarian Republic of Venezuela. His own allies, staff at the US embassy in Caracas described him as "arrogant, vengeful, and thirsty for power" according to documents released by Wikileaks.


He is the de facto leader of the extreme right wing opposition leading demonstrations organized as part of a strategy launched by him and other hard-line opposition members, called "the exit" in English. The strategy led to 43 deaths and hundreds wounded, including security officers, civilian bystanders and members from both sides.
López has made no secret of his intention to ultimately remove President Maduro from office and was arrested after leading a large opposition demonstration in central Caracas on the 12th of February 2014, which led to three deaths and the destruction of the Attorney General's office. The state maintains that the march's main aim was to destabilize the country by provoking a coup d'etat. Even fellow opposition members called his "push for street demonstrations as irresponsible".

Like in Canada, the judicial system in the Bolivarian Republic of Venezuela is autonomous and President Maduro cannot interfere in judicial proceedings; any attempt to do so would be a flagrant violation of judicial sovereignty and autonomy. The government has indicated that proceedings against López are being conducted within the framework of the law and have nothing to do with the president. An independent judge found enough evidence to have López stand trial for serious charges that include public incitement (to violence), criminal association, and property and fire damage. The prosecution presented more than 108 witnesses to support their case. López supporters claim that the delay in his trial is tantamount to political repression. However, Venezuelan constitutional lawyer, Jesus Silva points out that it's the defense's own tactic to repeatedly delay proceedings to avoid going to trial and use it "as an international political platform".

López is no stranger to the criminal system in the Bolivarian Republic of Venezuela and his distinguished criminal record dates back to when he was Mayor of Chacao. In 2008, he was accused of corruption stemming from his majorship when it was uncovered he had diverted public funds from the state oil company, Petróleos de Venezuela S.A to his political party, Primera Justicia. He was barred from seeking public office for 6 years by the national comptroller-general. López challenged these charges in 2011 but lost when the Supreme Court upheld the ban.
López has been engaged in destabilizing activities against the Bolivarian government for many years. There is well documented evidence that he has received extensive funding from US agencies, such as the US Agency for International Development (USAID), the National Endowment for Democracy (NED) and the International Republican Institute (IRI) whose end goal is regime change.

Lopez is infamous for orchestrating and leading violent protests that lead to the coup d'etat against former president Hugo Chavez in 2002. He played a key role in the illegal arrest of Chavez's interior minister, Ramón Rodríguez Chacín and signed the now infamous "Carmona Decree" which dissolved the Venezuelan constitution and appointed Pedro Carmona as interim president. After the failed coup, López and his co-conspirators were charged but were fortunate that former president Chavez issued a general amnesty to all those involved in the coup.

Most recently, Leopoldo made headlines again but this time in Singapore where the Singapore Research Department opened an investigation against several people for fraud, including himself and his father, for money laundering.

If any Venezuelans deserve to be honoured, they are the victims of violence caused during the protests that were led by extreme right wing leaders like López. The relatives of victims of the opposition violence have announced that they have formed an action committee to seek justice and raise awareness about the right-wing violence.
We applaud efforts to draw attention to political repression around the world but not when it serves the interests of the right-wing agenda in Canada and Bolivarian Republic of Venezuela.

Raul Burbano
Common Frontiers – Program Director

---
January 30, 2015
Carbon Copy: The Economic War in Venezuela
After losing the elections of April 14, 2013, and having failed in their efforts to cast doubt on the electoral results, the Venezuelan right-wing, with the advice of U.S. agents, changed its tactic: they recycled a plan of action formerly used against Salvador Allende in Chile in 1973 and launched an economic sabotage aimed at bringing down the Venezuelan government on the eve of the municipal elections of December 8. As a response, the Bolivarian government is working through its institutions to form an alliance with workers and other sectors of the organized population. The aim of this alliance is to combat hoarding and speculation, which are the principal elements of the economic struggle that is now taking place in Venezuela
Carbon Copy: The Economic War in Venezuela (video) from Red ALBATV on Vimeo.
---
January 28, 2015
Contesting Big Mining from Canada to Mozambique
By Judith Marshall
During a visit to Mozambique in September 2014, I witnessed a protest against Brazilian mining giant, Vale. Villagers from Bagamoyo, adjacent to Vale's coal mine, were fighting construction of a chain met- al fence through their community. Vale claimed it was fencing off "unoccupied land" leased from the Mozambican government. If a "trespasser" had an accident, Vale would be liable!
Chatting with community members as they made their protest signs, it became abundantly clear that this "unoccupied" land was, in fact, the village "commons". While their houses were within the village, they and generations before them had lived off land on the village outskirts and even used part of the land as a cemetery. The Mozambican government had included this land in the leasehold with Vale for its mining operations without informing the Bagamoyo community members. Their farms and their mango trees were on this land. They raised their goats and cattle there. This land was a source of firewood and charcoal for cooking, thatch for roofing and sticks for drying racks for cassava roots, and clay for building blocks. Vale had already bulldozed some of their kilns built next to the clay deposits.
What has given big mining companies the power to grab land already under traditional communal usage all around the globe? Why do governments of every stripe – dictatorial, liberal, socialist – baptise these extractive sector companies as 'development partners' and abdicate any stewardship role over their country's natural resources and the rights and well-being of their own citizens?
-download the complete article (pdf 358KB)

---
January 27, 2015
28 Orgs in Canada & USA demanded an investigation in Honduras
Abog. Óscar Fernando Chinchilla
Fiscal General de la República
Tel. (504) 22215665
Correo electrónico: fiscalgeneral@hushmail.com

Dear Abog. Oscar Chinchilla,
On January 5 of this year, Juan Francisco Martínez, a member of the Independent Lenca Indigenous Movement of La Paz (MILPAH), was found murdered in his community of Tapuyman in Santa Elena, La Paz, Honduras. According to the Honduran Center for the Promotion of Community Development (CEHPRODEC), his body was found with burn marks and his hands were bound with laces from military boots. Based on this evidence, Juan Francisco is believed to have been assassinated. Since August, Juan Francisco's family has also received repeated threats of violence.
The below-signed organizations and individuals share the worry of Honduran organizations that Juan Francisco's murder was a direct result of his efforts in defense of collective Indigenous land. In particular, the organization to which he belonged, the Independent Lenca Indigenous Movement of La Paz (MILPAH), has been very active in challenging a high-profile hydroelectric energy project that has made the organization and its supporters targets of similar assassinations, and left many the victims of death threats, kidnapping, and vandalism. The Los Encinos S.A. dam is part of an energy project funded by Gladys Aurora López, a National Party Deputy and Vice President of the Honduran Congress. Permission to build the project was granted without the free, prior and informed consent of the affected community. This is a blatant violation of the UN Declaration on the Rights of Indigenous Peoples, which Honduras has endorsed, as well as the International Labour Organization Convention 169 and other international jurisprudence.
-read the entire letter
-Leer la historia original en español
---
January 26, 2015
Canadian MP asks his government for the report on the alleged donation to Fundación Arias
OVER MORE THAN A YEAR AGO, JUSTICE CANADA REPRESENTATIVES SENT INFORMATION TO THE COSTA RICAN ATTORNEY GENERAL ABOUT THE CASE
Canadian MP, Peter Julian, asks his government for the report on the alleged donation to Fundación Arias.
New Democratic Party member criticizes his government for not being open and for not releasing information of public interest.
After two requests for information, the Costa Rican Attorney General asked for the case against the ex-president of Arias to be dismissed.

by Manuel Sancho,
published by CRHoy.com in Costa Rica

-read the English translation on Julian's website
-Leer la historia original en español
---
January 11, 2015
Qué está pasando en Venezuela?
-To enable captions, click on CC in the menubar. -more help
---
January 10, 2015
Michael Harris shares his findings about the Harper Government at Unifor Ontario Regional Council
video- November 2014
---
January 5, 2015
Why Is CRA Reinterpreting Rules to Shut Down Charities It Doesn't Agree With?
by Gareth Kirkby
From The Huffington Post
It's what charities have feared. The results are trickling in from the Harper government's program of stepped-up Canada Revenue Agency (CRA) audits of charities that tend to have different policy ideas than those of this government -- and it ain't pretty.
Sadly, the early results are in sync with the findings of my recent thesis, which triggered a national conversation about political interference by the Harper government in the workings of the taxman and causing an advocacy chill in charity communications. And that in turn impacts on Canada's public discussions and thus on the vigour of democracy itself.
The first of the latest two charities to make the news include Alternatives, a small Montreal-based development and human rights organization, which has been around since 1994 doing work through partners in developing nations.
Toronto-based Environmental Defence a three decades-old and highly regarded Ontario environmental charity, is the other group to be given bad news, though it has received a reprieve from being closed down so that it can appeal a death sentence. While the main focus of media attention has been on whether charities will lose tax receipting privileges because of CRA's changing interpretations of acceptable activities, the problems faced by these two organizations is of a different, though very disturbing, nature.
CRA is telling them that they will lose their charitable status because their very activities have been reclassified as "non-charitable," that previous finding them in good stead were wrong, and that they should not have been given charitable status in the first place.
Alternatives is expecting to close shop, and it's understandable. Executive Director Michel Lambert told CBC News reporter Dean Beebie, that he expects CRA to offer them a contract in order to continue their work but that he expects the terms will not be ethically acceptable. That's because Alternatives has an approach to its work with Third World partners that respects the ability of the partner to run the programs funded by Alternatives.
Alternatives' approach to partnerships may seem obvious to readers, who cannot imagine that Montreal staff of a Canadian charity would know the details of what is best for Third World partners and their clients. Are charities expected to duplicate former Colonialist power structures by micromanaging the work of Third World locals in order to satisfy the Canadian taxman?
Well, actually, yes. Media reported last summer on the experience of CoDev, a very small Vancouver development charity that works to empower Latin American communities. But CRA upbraided them for not having sufficient control over their partners. Shocking but true. But also, I suspect, also unworkable and so, ultimately, likely to lead to CoDev losing its charitable status in a future audit unless CRA comes to its senses.
---
December 16, 2014
The Situation of Human Rights and Democracy in Honduras Since the Elections of November 2013
Written testimony of Alexander Main to the Subcommittee on International Human Rights of the House of Commons of Canada; December 9, 2014.
Center for Economic Policy and Research
Thank you for this opportunity to discuss with you the current situation of human rights and democracy in Honduras. In my work as an analyst for the Center for Economic and Policy Research, I focus primarily on political, economic and social developments in Latin America and the Caribbean. For the past five years I have been closely monitoring developments in Honduras and have had frequent interaction with human rights defenders, academics, journalists and officials located in that country.
On June 28, 2009, a coup d'Etat led to the forced removal of democratically elected President José Manuel Zelaya. The coup was followed by widespread repression, media closures and censorship and a prolonged political crisis. Elections held under the coup government of Roberto Micheletti in late 2009 were boycotted by opposition groups and were recognized by only a small number of the region's governments, among them the U.S. and Canada.
Honduras has long been plagued by poverty, high levels of crime, and weak and corrupt institutions. The 2009 coup dramatically escalated these problems and has sparked significant regression in other areas. Following the coup, the Honduran government's democratic legitimacy was severely compromised; targeted killings, violent attacks and threats against members of at-risk sectors of society escalated; impunity reached record levels; and law enforcement became increasingly militarized.
In November of 2013, new elections were held. Opposition parties participated, the European Union and Organization of American States sent electoral monitors, and human rights groups expressed hope that the elections would allow the country to begin turning the page on the coup and its bitter aftermath. This hope was dampened by political violence and reports of irregularities and fraud.
My presentation today will focus on the 12 months that have transpired since these elections. I'll offer my assessment of whether or not the country's negative trends in the areas of human rights and democracy have begun to reverse course under the government of the contested winner of the 2013 elections, Juan Orlando Hernández. I'll focus on addressing the issues that the Subcommittee has expressed particular interest in, and will also touch on additional aspects that I believe can help provide a better understanding of the overall situation.
-read the transcript of his testimony
-download a PDF
---
December 11, 2014
Petition calls on Canada to remove Mexico from the refugee list of safe countries
The Canadian government considers Mexico, its North American Free Trade Agreement partner, a safe country for refugees.
Since the 2012 Refugee Exclusion Act, Mexico and forty other countries have been placed on the "Designated Countries of Origin" list. Refugee claimants from these countries face a different legal system: they have fewer rights and the timelines for their claims are shorter. This enables Canada to fast-tracks deportations to these countries.
Common Frontiers has joined many other organizations and individuals in sponsoring a petition calling on the Canadian government to remove Mexisco from the refugee list of safe countries.
-go to the petition site for complete details
-read a full backgrounder and statement: in English en Español
---
December 10, 2014
Anti-mining activist killed and Ecuadorean partners harassed on eve of Lima meetings
by Rachel Warden
Originally posted to www.kairoscanada.org on Dec 4
I have been in Quito, Ecuador meeting with KAIROS partners Acción Ecológica and the Latin American Council of Churches (CLAI) before heading to Lima, Peru for the Peoples' summit and the 20th UN Conference on climate change, known as COP20.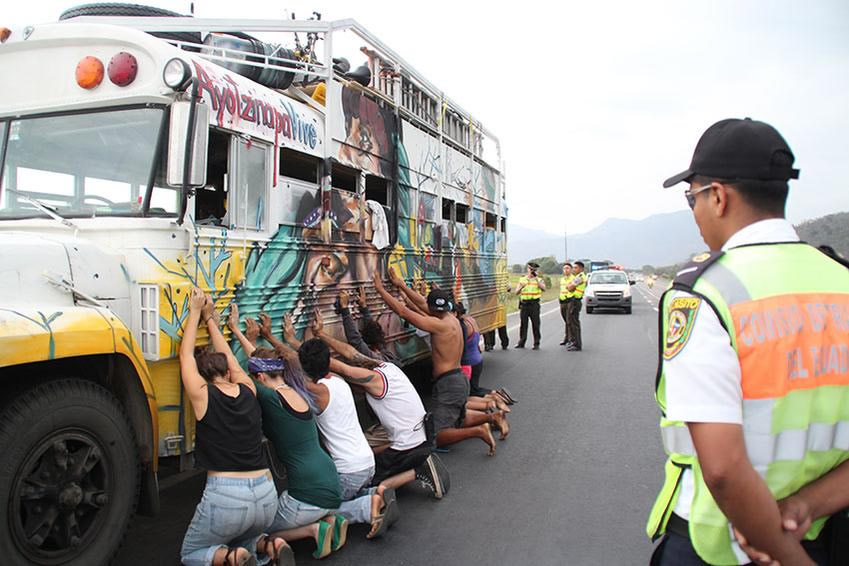 Today, I visited the offices of Acción Ecológica. I was anticipating a celebratory mood as the team prepares for the gatherings in Lima, but instead I found a strong, collective feeling of concern and grief over two disturbing and tragic events.
Ecuador Youth Caravan SoldiersThe caravan with members of the movement defending Ecuador's Yasuni national park against the destructive oil extraction (Yasunidos) was heading to Lima from Quito (about a 4 day journey) in a very visible, colourfully painted bus when it was detained several times by police in Ecuador. The Yasunidos is a movement of mainly young people, students and artists who are committed to protecting the Yasuni and keeping the oil in the ground. They are on their way to Lima to present the Yasuni's case at a Tribunal on the Rights of Nature on Friday Dec 5.
Being young and savvy in social media, the group disseminated information about their harassment and detention. Esperanza Morales, part of the Acción Ecológica team, explained that the caravan had been detained several times, that the Yasunidos had been harassed, and that their documents and cell phones were confiscated. At about 4am, when the bus was detained for a 5th time and they were forced off course and into a small town, the delegation, still determined to get to Lima, decided to complete the journey on local buses and left two representatives with their beloved bus. Esperanza said the government is trying to prevent the caravan from getting to Lima. "These youth, students and artists are the new political prisoners here," she added. She shared photos of the students being detained, kneeling with their hands on the bus, and of members of the police and military occupying the bus. Acción Ecológica asked me to share this information widely to protect the caravan. The Yasunidos were shaken and delayed, but thankfully no one was hurt. However, these events demonstrate the lengths to which the government is willing to go to prevent those voices from being heard in Lima, as well as the sheer determination of the students.
Ecuador Soldiers

The Acción Ecológica team was also reeling from news received that morning of the killing of Shuar leader, Jose Isidro Tebdetza. Jose Isidro was president of a community in the Cordillera del Condor, in southeast Ecuador, that is impacted by the Mirador Copper mine. The mine was owned by a Canadian company, Corriente Resources, until 2010 when it was bought by a Chinese-owned enterprise. Jose Isidro was a visible and outspoken critic of the mine, which generated a lot of tension and conflict in the community. Gloria Chicaiza, coordinator of Acción Ecológica's mining work, shared the horrific details of Jose Isidro's death. He had disappeared last Friday on his way to a community meeting. That morning, family members identified his body from photos. His hands were tied and there were signs of torture. Acción Ecológica was working on a bulletin and urgent action and I will circulate this information when it becomes available.
What was meant to be a celebratory launch for Acción Ecológica's delegation to the Peoples' Summit and COP20 in Lima had become an emergency meeting as they struggled to respond to these terrible events, which are further evidence of the repression and threats facing the ecological justice movement and Indigenous leaders in Ecuador.
Tomorrow I leave for Lima. I will be joining a delegation of 30 women from Ecuador and 11 from the rest of Latin America who will focus on the gendered impacts of resource extraction and climate change. KAIROS has supported this work through our partnership with Acción Ecológica, and I feel privileged to be able to accompany the delegation. On Friday, I will be participating in the Tribunal on the Rights of Nature in which the case of the Yasuni will be presented. I hope the Yasunidos will arrive safe and sound and on time to share their testimonies.
-Follow this story in Climate Justice on KairosCanada.org
---
December 9, 2014
Justice for Aboriginal Peoples -- It's time
---
December 8, 2014
Leftist Parties Win Important National Elections in 2014
By Asad Ismi

The Latin American Revolution continued to score major victories in 2014 with the re-election of leftist parties in Brazil, Bolivia and El Salvador. This is the left's fourth consecutive term in Brazil, its third in Bolivia, and its first re-election in El Salvador (see "Social movements and the FMLN's second term," October 2014). Altogether leftist parties now govern in 10 Latin American countries, with these latest victories showing a deepening of the revolution, and a growing political maturity and confidence on the left.

On October 26, President Dilma Rousseff of the Brazilian Workers Party (PT), which has been in power for the past 12 years, narrowly defeated pro-business rival Aécio Neves by 3.5 million votes. Rousseff describes herself as an economist, a mother, grandmother and wife who has overcome lymphatic cancer. She is also a former member of the Palmares Armed Revolutionary Vanguard, a Cuban Revolution–inspired urban guerrilla organization that fought the brutal 20-year U.S.-backed military dictatorship that seized power in 1964. She was imprisoned and tortured by the dictatorship.

The close margin of Rousseff's victory is not particularly unusual, since many U.S. presidents have won with similar numbers. This was, when all is considered, a vote for continuity. However, the tight race does signify important changes in the composition of the PT's base. Where previous elections were won with support from the middle class in the south of the country, this time Rousseff can thank the poor who live mainly in the north of Brazil.

According to Manuel Larrabure, a PhD candidate in political science at York University who is writing his thesis on alternatives to neoliberalism in Brazil and Venezuela, the Brazilian middle class is split: one faction still supports the PT while another has gone over to the neoliberal opposition represented by Neves.

"The pro-PT middle class could be called the 'progressive' middle class," Larrabure explains. "Although there is some disappointment with the PT in this section of the middle class, most of it voted PT. However, some of this section has drifted to [other parties on] the left.

"The anti-PT middle class opposes the PT's social programs and could be called the 'centrist' middle class. Some of this middle class voted PT in the past hoping for growth and employment. However, a significant part of this middle class switched to Neves in this election in part because of the slowing economy and in part because of the fear and demonization campaigns launched by the corporate media against the PT."

-read the entire article

Asad Ismi is an international affairs correspondent for The Monitor and the author of the anthology The Latin American Revolution, which can be ordered from the CCPA by writing ccpa@policyalternatives.ca. For his publications visit www.asadismi.ws.
---
December 6, 2014
AFL-CIO letter to Equitable Origin's recent certification of the Pacific Rubiales and Quifa production sites of Pacific Rubiales
The American Federation of Labour and Congress of Industrial organizations (AFL-CIO) has sent a letter to the president of Equitable Origin expressing "serious concerns" regarding Equitable Origin's recent certification of the Pacific Rubiales and Quifa production sites of  Pacific Rubiales and the process that led to it.
"Our organization represents 12.5 million workers in the United States, including many thousands in the petroleum and gas sectors. We also coordinate actions with institutional investors that make serious efforts to encourage socially responsible investment. For reasons detailed below, we strongly believe that certifying these Pacific Rubiales sites was an egregious mistake that will damage the credibility of Equitable Origin's incipient efforts to certify oil and gas produ ers as socially and environmentally responsible."
-Read the entire letter Attachments (en Español)
---
December 4, 2014
Partners in Crime: The Mexican state, North American Capitalism, and the 43 Missing Students
When: Friday, December 12th, 7pm
Where: Beit Zatoun, 612 Markham St. (Bathurst & Bloor)
The signing of the North American Free Trade Agreement came with the promise of prosperity and jobs for all and the extension of human rights. These are, it needs hardly saying, promises unkept.
On September 26th 2014, over 100 students from a rural teacher's college were passing through the nearby town of Iguala in Guerrero en route to a demonstration in Mexico City. Three were killed along with three bystanders and 43 are still missing. The families of the students continue to demand that their children be returned alive.
The search for the students has unearthed a number of mass graves and has lead to an eruption of p...rotests across the country. The parents of the missing students have traveled throughout the country meeting with communities that have also experienced killings and disappearances. The family insists it was not simply a local occurrence but something that happens in many places, and that the responsibility lies with the state.
The incident has highlighted this ongoing problem in the country – exceedingly high rate of disappearances and murders related both to the drug war and the state's attempt to suppress opposition to neo-liberal reforms, reforms which have been intensified under the current Peña Nieto regime.
Despite the human rights violations and repression by the state, the U.S. continues to praise the Mexican President and fund the drug war. Canada is also complicit in backing the state and pushing for business-friendly policies.
At the end of 2013, reforms were passed to open Mexico's petroleum sector to foreign investment and to make it easier for mining companies, many of which are Canadian, to displace local populations for mining projects.
Please join us as our panel explores these and other issues underlying the recent tragedy.

Speakers:
Anna Zalik, Associate Professor at York University, writes extensively on the oil sector and capitalist development in Mexico, Nigeria, and Canada.
Richard Roman, co-author of Continental Crucible: Big Business, Workers, and Unions in the Transformation of North America.
Judith Adler Hellman, Professor of Political Science at York University and author of The World of Mexican Migrants (2008), Mexican Lives (1999) and Mexico in Crisis (1988).
Ricardo Bocanegra Meza, Student at York University, organizer of Mexico solidarity actions in Toronto

For more information see the Facebook event
Sponsored by: Centre for Social Justice and Common Frontiers
---
For Previous Current Events items, visit the Archives
(2014 Archive) (2013 Archive) (2012 Archive) (2011 Archive) (2010 Archive) (2009 Archive) (2008 Archive) (2007 Archive) (2006 Archive) (2005 Archive)